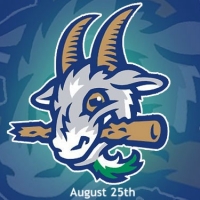 Tickets available for Yard Goats Game-August 4th
July 10, 2019
Hartford Yard Goats vs Trenton Thunder on 8/4/2019
Cost: $12.00 per ticket (first come first serve)
There are three ways to putrchase tickets:
1. Pay via a giving envelope. Simply mark the envelope "Yard Goats" and specify the amount and number of tickets desired.
2. Online. Go to the SCC giving page and purchase tickets via our website. Under "tickets" please indicate "Yard Goats" on the memo line.
http://www.sccbranford.org/giving/index.html
3. Our giving kiosk located in the church foyer. Go to Yard Goats tickets.
See Pastor Paul for physical tickets!
Note: Gates open at 3:30 pm and the game begins at 5:05 pm.
Back