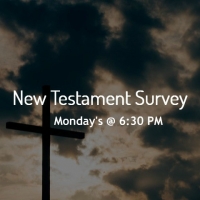 SCC University
October 31, 2018
We live in a fascinating new age. All around us we see signs of people yearning for spiritual experiences. Classes advertised at local gyms that provide peace through mediation and self-focusing exercise or articles in secular news outlets like Time Magazine and the New York Times that talk about the power of prayer (yet never once mention God or Jesus). In many ways, the era of "science rationale" ushered in by Darwinism is giving way to a secular world willing to except spirituality. As an evangelical Christian church, we might ask then why is it that Christianity is so openly under attack and spiritual darkness blankets Europe and threatens the Western World? In large part, this is the result of many Christians not actually KNOWING what they believe and WHY they believe it.
Take for example a recent survey of 3,000 self-professing Evangelical Christians - 61% said that "everyone sins a little, but most people are good by nature, AND 60% also said that "everyone eventually goes to heaven." The magnitude of the error in these beliefs is akin to a physicist saying that the laws of gravity are sometimes true. Even worse is that this ignorance is in direct opposition to scriptural truths that tell us that we as Christians should "be transformed by the renewal of [our] mind" (Romans 12:2, see also Colossians 3:16, 2 Timothy 3:13-14, 2 Timothy 3:16). What then, are we as Christians, to do?
Welcome to SCC University, a place where Christians are equipped with fundamental biblical truths that will allow them to know WHAT they believe and WHY they believe it. Taught as a survey course, the first semester of SCC University will dive into important truths about Christianity presented in the New Testament. In order to accomplish this task, we have split the New Testament up into five sections: 1) The Gospels, 2) Acts, 3) the Apostle Paul's letters, 4) other Letters of the New Testament, and 5) Revelation. From each of these sections, we have chosen specific books that we will break down and review over the course of four weeks. To kick things off we will look at the Book of John, with specific emphasis on the a) the Prolog, b) the miracles that John records and what they mean, c) the last supper and, d) the crucifixion and resurrection of Christ.
During each class, students will also be equipped with important tools that will help guide them in their individual study of the Bible. For example, we will address how we are to interpret different books of the Bible based on their literary genre or how we are to approach the Word as intended for an audience thousands of years our ancestors and with drastically different social and cultural practices than our own. Emphasis will also be placed on tactics that help us interpret difficult and sometimes downright confusing passages of the Bible.
Although the word "university" may seem intimidating and intended only for the well-educated - this class is for all, no matter where your walk with Christ may (or may not) be. Our guiding principle for this course comes from 2 Kings 7:3-9 - we are ALL spiritually starving people, it just so happens that we at SCC University, like the lepers, have found the Bread of Life and we want to share it with you. Classes will begin promptly at 6:30 pm and conclude at 7:30. No "formal" childcare will be initially offered but children are more than welcome and we will discuss ways to make this class family friendly.

Will Gardner
Back