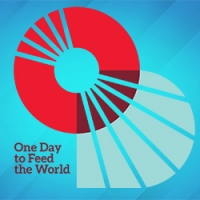 One Day to Feed the World-Sunday March 20th!
March 16, 2016
Join us Sunday, March 20th as we will be giving one day's pay to Convoy of Hope's Feed the World program! (To caluclate this, just take your paystub and divide your "take home pay" by 5. This will equal 1 day's salary or pay. If you get payed bi-weekly, divide by 10.)
ONE DAY to Feed the World is Convoy of Hope's annual campaign that has the power to transform the lives of children and families throughout the world.
By taking part in One Day to Feed the World you will help transform the lives of children by helping us provide healthy living through nutritious food, clean and safe drinking water and much more.

SCC's goal is to fill one tractor trailer with food. Because of the generosity and partnership of many corporate and individual sponsors, we can fill a trailer for $7,000.00!

If you are able to be with us on the 20th, special envelopes will be availible or you can mark your regular offering envelope "One Day". If you want to give online, you can do so by following this link: http://www.sccbranford.org/giving/index.html

We may not be able to change every life, but we can change one life, one day at a time!
Back