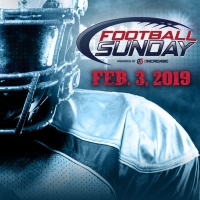 Football Sunday-Feb 3
January 11, 2019
What is Football Sunday?

Football Sunday is a media presentation that points unapologetically toward Jesus, and displays how some of today's well known NFL athletes are decreasing so that the life of Christ might increase in and through them. During our Sunday SuperBowl Worship Experience, you will hear stories from Minnesota Vikings quarterback Kirk Cousins, Denver Broncos quarterback Case Keenum, and New Orleans Saints linebacker Demario Davis. It's all hosted by New Orleans Saints tight end Benjamin Watson, on location in New Orleans.

Here's a video preview of what you can expect during our Sunday morning Worship Experience:
https://www.youtube.com/watch?time_continue=48&v=54vnZy3WzTI

Also, SCC will have some very special activities during our Sunday Morning Worship Experience, such as NFL Trivia, giveaways, games and free coffee and donuts! We have 2 Worship Experiences to choose from-9 am and 11 am. As always we have our Splash Kids Children's Ministry during our 9 am Experience. We'd love for you, and your family, to join us!
Back