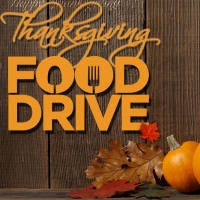 Branford Food Drive to benefit the Branford Food Pantry
November 7, 2017
The Branford Food Pantry is in need of the following items for Thanksgiving meals: If possible, please consider providing these items together in a box—1 can of gravy, 2 cans of vegetables, 1 box of stuffing, 2 boxes of instant pudding, 1 can of cranberry sauce, 1 can of frozen juice, 1 can of pie filling, 1 pie crust mix, 1 can of coffee, 1lb of butter.

If you would rather not purchase all items, individual items will be gladly accepted. These items can be dropped off on Sunday mornings at the Theater or any day at the Ministry Center between 9 am – 4 pm. Because we do not have a large freezer, please consider bringing the butter and juice to the Ministry Center Tuesday November 14th.

We will also be collecting 10-15 lb. turkeys on Tuesday November 14th ONLY. SCC does not have a large freezer so it is impossible for us to accept turkey donations before this date. You can drop turkeys off at the Ministry Center or directly to the Branford Food Pantry.

Back